STOCK US
Interested in a stock of our products? Get in touch with us.
FODMAP FRIENDLY CERTIFIED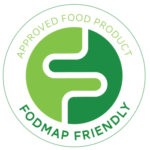 SHOP & EAT WITH CONFIDENCE!
WE SUPPORT IBS NETWORK
Fodilicious has pledged to donate £0.20 on every sale of our Bundle Boxes via our website to IBS Network registered Charity no. 1172208 helping to support IBS sufferers to live a better quality of life.