STOCK OUR COOKIE BUTTONS
We're looking for exciting places to stock our Cookie Buttons so please get in touch!
FODMAP FRIENDLY CERTIFIED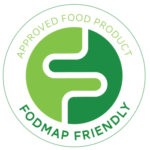 SHOP & EAT WITH CONFIDENCE!
LOVE OUR PLANET
Fodilicious will donate £0.50 for every sale through Fodilicious.com to Ocean Generation – supporting to end plastic pollution in our oceans.